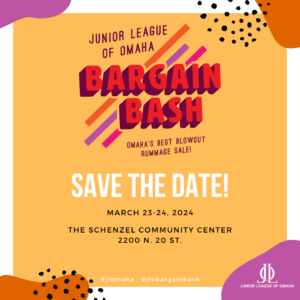 Join us for an incredible shopping experience at the 8th Annual Bargain Bash, proudly presented by the Junior League of Omaha. This much-awaited event brings you a fantastic selection of gently used clothing for all ages, toys, furniture, home decor, and more, all under one roof!
📅 When: March 23-24, 2024 📍 Where: Schenzel Community Center
👕 Fashion Finds for Everyone: Upgrade your wardrobe with an array of gently used clothing items. From trendy outfits to timeless classics, you'll discover fashionable pieces for the whole family at unbeatable prices.
🧸 Toy Wonderland: Delight the kids with an extensive collection of toys and games. From educational toys to the classics, there's something to captivate every imagination.
🏡 Furniture & Home Decor: Transform your living space with budget-friendly furniture and home decor treasures. Discover unique items that add a personal touch to your surroundings.
🎁 Unexpected Treasures: Explore beyond your shopping list and stumble upon hidden gems and surprises that are sure to put a smile on your face.
By participating in the Bargain Bash, you're not only scoring incredible bargains but also supporting the Junior League of Omaha's commitment to community improvement and women's leadership.
Mark your calendar and invite your friends and family to this shopping extravaganza. Join us in making this year's Bargain Bash the best one yet!
For updates and more information, check us out on Facebook @JLOBargainBash! Don't miss out on this opportunity to shop smart, save big, and contribute to a meaningful cause.
Question? Email bargainbash@jlomaha.org.