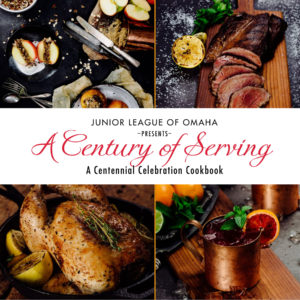 A Century of Serving: A Centennial Cookbook Celebration NOW ON SALE!
With nearly 250 recipes, many accompanied by photos from renowned photographer Joshua Foo, the book provides a plan for a delightful dinner, a perfect party and everything in between.
Buy your book online or in-person at events throughout the fall and holiday season.
Proceeds from the book will support the Junior League of Omaha's training and community initiatives.
Please note: All online orders MUST be shipped. Bulk orders of 10 cookbooks receive discount pricing. To order more than 10 cookbooks, separate orders must be placed.  Contact cookbook@jlomaha.org with questions.
Purchase your JLO Cookbook in person at select League General Membership Meetings or at the following Omaha area stores.
Everbloom Floral & Gift (Loveland location only, 90th & Center)
Real Deals on Home Decor (Shadow Lake Towne Center)
Wenday's Kitchen Boutique (Park Building Downtown Council Bluffs)
Lee Douglas Interiors/The Loft By LDI (2415 S 133rd Plaza, Omaha)
1912 Emporium in Wayne, Nebraska
Heirloom Fine Foods (325 N 72nd St #200, Omaha)
Revival in Benson
Plum Creek Farms Countryside Market (26902 W Center Rd, Waterloo, NE)
The Next Chapter Books and Gifts (2508 Farnam St, Omaha)
Dusk Goods and Gifts (1234 S. 13th St Suite 201 & 202)
Voila Magdalene Blooms (4922 Dodge Street)
JH Interior Design (Clocktower Village: 721 N 98th Street)
Stir Coffee Bar (Legacy – 16950 Wright Plaza)
Salt Creek Mercantile (1502 Silver St – Ashland)
Made in Omaha (Countryside Village, Old Market)
Prairie in Bloom (1702 Cuming St.)
Village Pomegranate/The Linen Gallery (Countryside Village)
Village Grinder (Countryside Village, 87th & Pacific)
Clarkson Gift Shop (UNMC)
CornerStone Gift Shop (UNMC)
The Bookworm (90th & Center)
Mine Custom Gifts (114th & Davenport)
Spruce Interiors & Gifts (5022 Leavenworth Street)
Children's Hospital Gift Shop (82nd & Dodge Street)
Hearts & Fire (Rockbrook Village)